Introduction
October 15th was a pretty special day, especially for the blind community. It was National White Cane Safety Day, also known as White Cane Awareness Day. This day is all about celebrating the independence, freedom, and inclusivity that white canes represent for many of us. So, let's dive into the world of white canes and check out some cool Penny Forward merchandise from Blind Girl Designs that you can rock to show your support!
More than Just a White Stick
For many blind individuals, a white cane is more than just a stick; it's like a superpower! It helps us navigate our daily lives, from work and school to our neighborhoods. But it's not just a practical tool – it's a symbol that tells sighted folks, "Hey, we might need a little different approach to interaction."
If you're not familiar with how it works, think of it as an extension of our sense of touch. It's like a trusty sidekick that helps us confidently assess our surroundings. With the white cane, we can detect obstacles, find steps, avoid sidewalk cracks, spot doorways, and so much more. It's our secret weapon in a world that's often all about sight.
Penny Forward Merch: Celebrating the Possibilities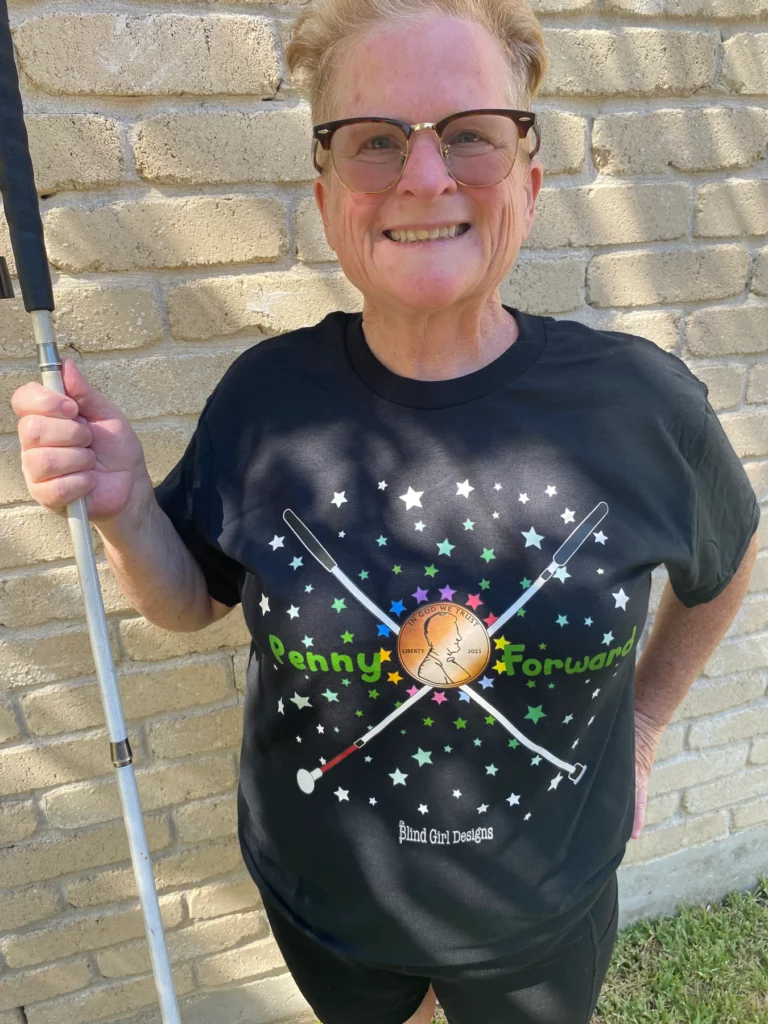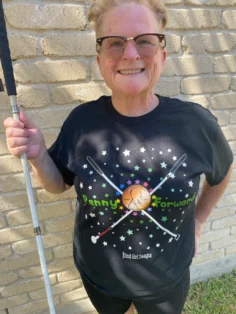 To honor the white cane's role in empowering us, Penny Forward has joined forces with Tricia from Blind Girl Designs to create an awesome collection of merchandise. The design captures the incredible opportunities that white canes bring into our lives.
The center of the print features a pretty good replica of a copper penny! On the left side of the penny, it says, "penny" in green and on the right side it says "forward".
Behind the coin are two white canes crossed in an x shape each extending 14 inches diagonally across the large print.
Surrounding the central penny, are a band of colorful little stars in gold, blue, purple, pink, red, and yellow. Exploding beyond the band of colorful stars are green and white stars that extend all the way to the edges of the 12 x 12 print, bringing a great dynamic to the print, a similar dynamic and expansive energy, and freedom, that financial literacy can bring to all of us.
Join the Celebration: Grab Your Penny Forward Gear!
It doesn't have to be White Cane Safety Day to do more than just nod your head in recognition of white canes. You can make a statement and show your support for the visually impaired community. How? Get yourself a Penny Forward T-shirt, sweatshirt, or tote bag from Blind Girl Designs! It's not just cool fashion; it's a shoutout for inclusivity and empowerment.
To grab your gear, swing by the Blind Girl Designs website or give them a call at (862) 448-1011. You'll not only get snazzy merchandise but also contribute to an awesome cause.
Share the Love
Already rocking some Penny Forward merch? Awesome! Send us a pic of you wearing it, and we might feature the best shots on our website and in our newsletters. It's a chance to join the party, make a statement, and inspire others to support this fantastic cause.
So, let's come together, celebrate White Cane Safety Day, and stand in solidarity with the blind community. Wear Penny Forward merchandise from Blind Girl Designs and make a difference in style! It's not just fashion; it's a declaration of inclusivity and empowerment that's totally worth celebrating.