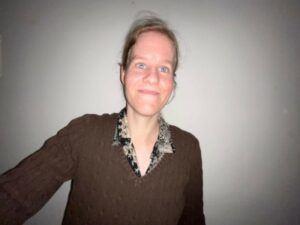 Liz Bottner
Liz Bottner is the vice president of the Penny Forward board of directors and the co-host and co-producer of the Penny Forward podcast. She is a certified Assistive Technology Instructional Specialist (CATIS) and Certified Vision Rehabilitation Therapist (CVRT), Liz credits her initial interest in the blindness rehabilitation field to those  positive blindness rehabilitation professionals she had in her life early on who helped set her up for success in terms of being able to effectively navigate through the world despite having vision loss.
She received her  Masters in Blind Rehabilitation Teaching with a specialization in Assistive Technology from Northern Illinois University and currently works as an Assistive Technology Specialist for the Library of Congress (National Library Service).
When she is not working, Liz enjoys reading, traveling (New York City is a much favored destination) and being active. She enjoys running (with and without her Guiding Eyes Running guide dog) and serving as goalie in playing blind hockey, especially for the Hartford Braillers-Connecticut's blind ice hockey team.